Lomography+ 5/24 START!
Lomography's flagship store will be relocating from the center of fashion district, Shibuya to one of the most exciting art district, Eastern Tokyo this summer! To all artists, creative young talents, analogue film lovers… and anyone who's interested in the art of "lomographic" photography! Don't miss this one and only chance to witness the opening of "new" Lomography store – Lomography+!
In the course of Lomography's history, we have always made effort to evolve, to provide better products, to add, to plus more excitement and fun for shooting film photography. Just like how LC-A+ and Diana F+ have evolved, Lomography+ represents a new space – that can transform into a store, an art gallery, a workshop space, film development lab and many more.
3331 Arts Chiyoda is an active space hosting a wide range of events and exhibitions and transmitting a new form of expression. It's the perfect art center to spread the art of analogue photography – as our goal is to become the forefront of film photography from this new space "Lomography+".
We will be hosting an opening party on Friday, May 24th 2013 to celebrate our new space "Lomography+". Anyone is welcome to stop by so please invite your friends and family to this big event! All guests are invited to build a big LomoWall that will become part of the interior in the new space. Hope to see you all at the party!
PARTY
Lomography+ Opening Party on May 24th!
We'll be hosting a party for the opening of Lomography+! Please come and join us to celebrate our new space. Currently, we're collecting pictures for the LomoWall that is going to be built in Lomography+ so don't miss this chance! Your picture might be chosen!
Time: May 24th 2013 (Sat)
Place: 3331 Arts Chiyoda 1F Community Space / Rm# 102
Admission Free
Read More
COMPETITION
LomoWall for "Lomography+"
We are currently collecting colorful lomographic pictures until May 6th via our website, to create a LomoWall near the entrance of "Lomography+". All guests at the party are welcome to build this wall together so if you are interested in creating this wall, please come by! Even if you can't make it to the party, come and check out the completed wall after May 24th!
Read More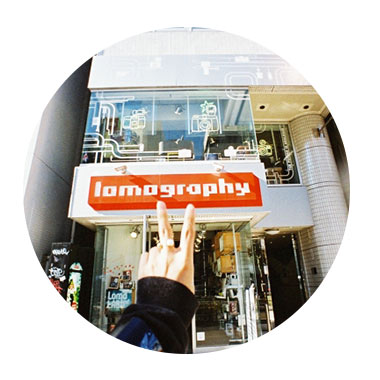 STORE
News from Lomography Gallery Store Tokyo
Lomography Gallery Store Tokyo will be closing its store in Shibuya and relocating as "lomography+" in 3331 Arts Chiyoda. LGS Tokyo will be open until May 31st 20:00!
Read More
WORKSHOP
5/11(SAT) LomoLab Workshop in "Kanda-Matsuri"
Kanda Matsuri is back! Kanda Matsuri is a festival that takes place in Kanda area ( Near from our new place, Lomography+ ) every 2 years. However, because of the 3.11 Tohoku Earthquake and it has been postponed for 4 years and now it's finally back! Lomography would like to capture this exciting event with you! Please check the details below and email us if you would like to participate.
When May 11th 2013 (Sat)
Time 15:00 - 18:00
Read More
MAP
Address
3331 Arts Chiyoda
6-11-14 Sotokanda Chiyoda-Ku Tokyo 101-0021 1F 102
Access
• 1 min. from Tokyo Metro Ginza Line Suehirocho station (Exit 4)
• 3 min. from Tokyo Metro Chiyoda Line Yushima station (Exit 6)
• 6 min. from Toei Oedo Line Ueno-Okachimachi station (Exit A1)
• 7 min. from JR Okachimachi station (Southern Exit)
• 8 min. from JR Akihabara station (Electric City Exit)
About Lomography Japan
Lomographic Society is a film camera brand, based in Vienna, Austria which has spread its business over 50 countries around the world. Lomography Japan has become the authorized importer of Lomography products - film camera, film and stationary - from November 1997. This summer, Lomography's flagship store will be relocating to 3331 Arts Chiyoda to share the arts of analogue photography. Please check out website for more details.
Media/Press
Please email us at press@lomography.jp if you have any inquiries in regards of "Lomgraphy+".
We are also looking for new creators, artists, photographers who are interested in building new projects with us! Feel free to contact us here too.