Here is all you wanted to know about SMENA SYMBOL
The Lomographic Society Presents
Smena Symbol - Time for the Young Generation

All authentic, refurbished, deadstock cameras. Original packaging & documentation. Made in the USSR. Includes a three-month limited warranty with purchase.

The word "Smena" (Cmeha) is roughly translated into "Young Generation" in English. True to its name, the Smena line of cameras were designed to provide inexpensive, accessible, and excellent photography tools to the hard-working young Soviets of the time. Manufactured by the legendary LOMO production house of St. Petersburg (home of our dear Lomo LC-A), the first Smena model rolled out of assembly in 1952. The popularity of this line was so enduring that Smenas continued to be produced until the early 90's. Many a famous and infamous* photographer, both inside and outside of the USSR, have first cut their chops on a Smena's full manual controls.

The Smena Symbol model is the early 80's to early 90's incarnation of the Smena lineage. Its look is classic Russian design. Building on the strengths of its predecessor (the Smena 8m), the Symbol's refinements include a coupled shutter cock and film advance, and a standard hot-shoe flash sync.


Largely crafted in lightweight plastic, the Smena has a brushed metal nameplate and lens housing, striking a somewhat bizarre mixture of materials. It feels toy like in your hands, yet offers surprisingly robust controls and funky, icon-based exposure calculation. Wild looks aside, the Smena shines most brightly through its lens. Take a walk through our sample gallery and soak in the colors, saturation, and contrast of Smena's three-element, coated "Triplet" lens. Devastating. Creation of an image is fully up to your whim and fancy, courtesy of manual aperture, shutter speed, and focal distance controls.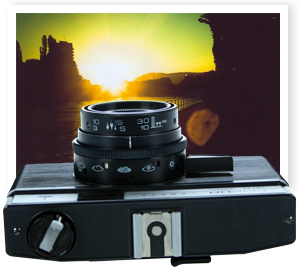 Want to take your head out of the equation? Merely use the Smena's clever weather symbols to accurately calculate your daytime exposures. Far from a toy, the Smena is a true LOMO - a quirky little hombre that begs you to have fun, be spontaneous, and shoot the hell out of everything around you. Give Smena a bit of attention and practice, and it will produce incredible images that cannot be duplicated by any other camera.


The Lomographic Society is proud to offer an exclusive, limited quantity of this gem. Want to learn the basics of photography? Want to break them? This collector's treasure is your ticket. Although your camera is likely to have already celebrated its 20th birthday in a warehouse, its presence in the Young Generation is ageless.


* Interesting fact: among those ranks of Smena enthusiasts is included Lee Harvey Oswald, the man who assassinated John F. Kennedy. Following an FBI raid on his residence, a Smena-2 was found among his possessions. As fear of Communism and conspiracy theories abounded, this Soviet camera caused quite a controversy at the time. Is there a connection? You decide!