So you think you've done it all? You've shot to the end of the Earth and back again.
But, we know you're still hungry for more, so we're throwing you a line. We've known for some time that there's whole world down there waiting to be explored. Finally, our Lomo boffins have invented the ultimate way to take you into the deep.
Sounds a bit fishy eh?
The Fisheye Submarine is the Big Dipper of all underwater camera cases. It takes the Fisheye experience to a whole new level! Compatible with both the Fisheye 1 & 2, you and your camera can now explore new depths together. Even as deep as 20m below the surface, the Fisheye Submarine's crystal-clear polycarbonate lens opening means your shots are as focussed and bursting with colour as ever.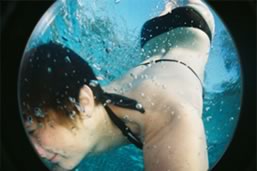 Even though most of the fish, marine life and underwater antics you'll be shooting will be between 1 - 3 metres below, it's still nice to know you can always venture deeper. We've developed the Fisheye Sub to be compatible with your curiosity. Just because the water swallows up a lot of light the further you go down, we don't want it to soak up your enthusiasm. The Sub is built to allow easy access to the flash and comes complete with a Flash Diffuser.
The Fisheye Submarine is a tough character, built to endure all-weather conditions and extreme situations! Thunderstorms, snow, ravishing winds or hail with hell's fury - all in a day's work for the Sub. The beauty of the Sub is that it lets your shots to be as insane as you want to be! You like to push the limits, the Sub allows you to push the button at the same time. Wakeboarding, freeride cycling, torpedo sky-diving, free running, bungee jumping..if you're into it, the Fisheye Submarine has got your Fisheye Camera locked up tight and up for it!
We've fallen for it. Hook, line and sinker.