Need all the details? Here we go!
Overview
Film Type: All standard 35mm

Lens: Triplet 43 / 40mm, f/4

Weight: 289g

Size: 70 x 100 x 60mm

Focal Range: 1m to infinity
Shutter Speeds: B, 1/15, 1/30, 1/60, 1/125, 1/250

Aperture Ring: 8 blades

Apertures: f/4, f/5.6, f/8, f/11,f/16

Flash: Standard Hot-shoe,
sync at all speeds
1. Triplet 43 / 40mm, f/4

An excellent high-contrast glass lens. Consisting of three separate elements and an anti-glare coating, it yields exceptionally sharp images and deep, punchy colors. Created by the same Leningrad engineering team that designed our beloved Lomo LC-A Minitar lens.


2. Manually Variable Shutter Speed

A steel shutter ring cycles between the following speeds 1/250, 1/125, 1/60, 1/30, 1/15, and "B" (the shutter will remain open for as long as you depress the shutter release button). For extra icing on your Smena cake, each shutter speed is matched with a charming weather icon.


3. Manually Variable Aperture

Manual aperture controls enable you to select the size of your lens diaphragm opening, across the possible f-stops of f/4 (greatest possible aperture), f/5.6, f/8, f/11, and f/16 (smallest possible aperture). The greater the aperture, the more light is admitted through the lens. The smaller the aperture, the greater the possible depth of field (total amount of your image in focus).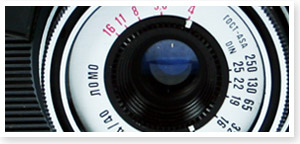 4. Weather Symbol Exposure Guide

As you guessed – the origin of the Smena "Symbol's" namesake. First, an easy little ring matches up your film speed to the proper aperture. Then, select the correct shutter speed by choosing from one of five little weather icons: sun, partial sun, cloudy, very cloudy, and stormy. Shaazam! – your exposure is right on every time.


5. Hot-Shoe Flash Sync

The Smena Symbol happily accommodates your usual standard Hot-Shoe flash – including (of course) our tinted-gel-champion: the Colorsplash Flash. And even better, the camera can sync with the flash at all speeds - allowing you to fire the flash on a bright day or hold open the shutter on "B" for blurred effects.


6. Faux-Leather Carry Case

Carried around your neck or over your shoulder, this carry case keeps Smena protected and available. A bottom screw allows you to shoot right out of the case, just flip the top down and F-I-R-E. The pebble grain exterior gives you the fine feel of leather, while keeping our cow friends alive to frolic through the pastures.


7. Quality Control & Limited 3-Month Warranty

Each Smena Symbol has been opened and hand-inspected by a Lomographic technician. A 3-month limited warranty against manufacturer defects is effective upon your receipt of the item. In the event of a manufacturer defect, your Smena will be quickly repaired or replaced at our discretion. Note: this warranty does not cover misuse, abuse, modifications, or any other usage of the camera that is not in accordance with the instruction manual.