In Guests, we tip our hats and introduce you to the esteemed company of colette's handpicked contributors. While in Winners, we proudly present the talented crew of Lomographers, who won a feature in the book with their fabulous Dianalogues.
GUESTS
Fafi (Paris)
Fafi is notorious for painting and hustling, her sexy, funny, and sometimes aggressive girl characters; by exploring feminity through stereotypes, and using it to her advantage, she drew enormous attention and thus started to travel the world with thousands of Fafinettes in her brushes and paint cans. Fafi started her career on the walls of Toulouse but is now a proud Paris dweller.
Hint: check the Yone x Cheki box set for Fafi's artwork.
Tommy (London)
Hello. My name is Tommy. I live in London and I like beautiful things.
Linlee Allen (Los Angeles)
Australian-born writer / photojournalist Linlee Allen is currently residing in Los Angeles. In addition to photographing colourful characters on her blog at linleeloves.blogspot.com she also contributes to www.style.com, V magazine and countless other publications as a west coast correspondant.
Daphné Bürki (Paris)
Journalist. Specialist in new trends and styles. At the moment: hosting "L'édition spéciale" on French TV channel Canal+ every day at 12:25pm. Before: worked as a stylist for John Galliano/Dior for two years. And before that: art student working as an animator for birthday parties
Profile: active, spontaneous, positive
Slogan: Have Fun
Claw Money (New York)
Queens-born Claw Money first made a name for herself on the street-art scene. She is now a fashion editor of Swindle Magazine and a designer for her own clothing and accessories line. Most recently Claw has been on a world tour promoting sneaker collaborations with sport giant Nike. This was the first artist release for women by a woman and it sets a new precedent for female streetwear collaborations in an extremely male dominated market.
Feride Uslu (Berlin)
Since the early 90s Feride Since the early 90s Feride has painted faces, then shortly after 2000 she started up her own airline (first out of NYC, now from Berlin), and since speaking with Lomography, she's going to be a photographer!
Feride Uslu, makeup artist/entrepreneuse
Shauna T (Melbourne)
Based in Melbourne, Australia, Shauna Tdesigns, makes art and other things. Shauna T is one half of cult brand PAM, which makes things like clothing, graphics and small art books. She is also a member of the international art band The Changes and her short stories are published in Doing Bird Magazine. Shauna T and husband, Misha, own a store called "Someday" in Melbourne.
www.perksandmini.com
www.someday-store.com
Helena Ichbiah (Paris)
Ich&Kar is an impertinently bold duet of graphic designers who create highly specilaised and surprising visual effects on a variety of subjects. Ich&Kar's extensive and comprehensive experience covers a vast range of subjects from luxury to mass-market goods. Ich&Kar's global approach goes far and beyond a given subject through an innovative touch that encompasses meaning, sensuality and talent – a unique Midas' touch that turns the ordinary into the extraordinary. Ich&Kar's duet is formed by a man and a woman fully devoted to deepening the impact of messages through evocative and elusive imagery. Their priority is to imbed their messages in reality and develop the representation of the messages in a clear, straight-forward language that rises above that of fashion, gimmicks and superfluity. Ich&Kar's goal is to convey meaning through humour and light-heartedness.
Sophie Toporkoff (Paris)
Sophie Toporkoff creates magazines (Rendez-Vous, Agenda), collaborates with great brands (including Maison Martin Margiela as their new Communication Art Director, Colette, Kiehl's), artists (for Palais de Tokyo, Galerie Kamel Mennour), musicians and also draws a lot. Always in search of a new idea or impluse, her eclectic body of work has continued to gain exposure over the last few years with solo exhibitions and installations at Allodi-R (Toyko), Colette (Paris) and galerie La Bank (Paris).
Jenny Mannerheim (Paris)
Based in Paris since 2002, Stockholm-born Jenny has worked as an art director for various magazines such as Numéro, Standard, Muteen, Vogue Hommes International and Beaux Arts magazine. In 2004 Jenny launched Nuke magazine and opened her own gallery in Paris, Galerie Nuke. Nuke 'Generation Polluée' is an art magazine for artists, designers and writers. It's not a journalistic magazine and does not targeting critics, the market etc. Jenny develops Nuke magazine and Gallery Nuke in conjunction with her profession as an art director.
Since 2006 Jenny has also been the Art Director of the huge contemporary art book series "Made by..."published by Enrico Navarra and directed by Fabrice Bousteau.
www.nuke.fr
www.galerienuke.fr
WINNERS
Adrienne Jones (US)
Adrienne likes collecting old cameras, and walking down the street to capture everything she fancies!
Alex Lyons (GB)
Besides taking photos, 18-year-old likes "drinking lots of milk." You can find more of his work at www.alex-lyons.co.uk, documenting his travels, accompanied by Lomography and his friends!
Dolly Moehrle (US)
"I am a young 23 year old woman, discovering herself in a pool of beauty as I find myself eternally at school - forever enrolled into lessons of the senses, a rise toward knowledge of self and universe and a better humanity, and this physical world in which we play in, a sandbox for the big kids, it's so fun."
Emma Kidd (AU)
Emma is a photographer/artist/illustrator whose heart beats for film.
Andrew Kua (SG)
He's a Lomography and experimental photography enthusiast who thinks he spends more time and money on cameras and film than food!
Annette Fournet (US)
Since 1989, she has been shooting exclusively with Diana cameras. Her work has been exhibited in various places all around the world!
Ayu Peeters (BE)
Ayu likens herself to the Diana camera – a mixture of expression and color.
www.lomohomes.com/ommanipadmehum
Jillian Pichocki (US)
Analog fan Jillian enjoys all forms of photography ranging from plastic cameras to historical processes such as the daguerreotype.
Lauren Maxfield (US)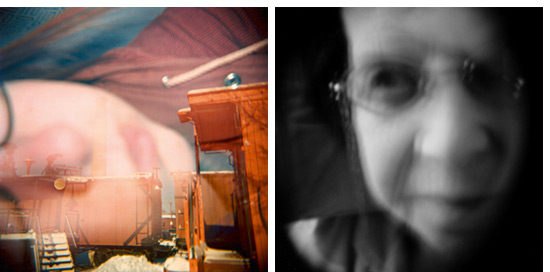 aka thebrightness. She loves a lot of things, ranging from her family to banana bread to plastic art.
www.lomohomes.com/thebrightness
Lucía deMosteyrín (ES)
"Pictures are the only way of truly expressing myself: my inner world, my deepest secrets, my hidden madness … The Dianalogues of my own life."
www.lomohomes.com/mujer12balas
Margherita Cecchini (IT)
Margherita works as a press photographer for a local newspaper in Italy, and is also a freelance photographer for various art projects, magazines, and commercial work.
Zita Vehil (ES)
"If you take a look at my Lomos you'll see through my eyes: the sea in old black and white, the fauvist skies, the blurred and distorted buildings, the dreamy landscapes with light leaks, and the pieces of lost people."
Satomi Sugiyama (JP)
Current Mission: Save the world from the digital infection.
Stefanie Sourial (AUT)
"I am that kind of a person who gets up at 5:30 a.m. in the morning to bake bread."
Fabienne Elisabeth (FR)
A French web designer working for a B2B communication company in Paris. Most of her free time is devoted to analog photography & Lomography!
Gisela Davico (AR)
Gisela Davico photographer, social researcher, chronic traveler. Loves to unveil the beauty of the world through a lense.
Elena Kulikova (US)
"I am a young 23 year old woman, discovering herself in a pool of beauty as I find myself eternally at school - forever enrolled in lessons of the senses, a rise toward knowledge of self and universe and a better humanity. This physical world in which we play in is a sandbox for the big kids, it's so fun."
Stephanie Vermaas (ID)
"I'm just a girl living in a third world paradise that they call the island of the gods."