Lomography is not just about photography. We are a vibrant online community of like-minded individuals – So it's unsurprising that there have been many Lomography love stories over the years…
---
She was an analogue ambassador known as Golfpunkgirl and he was a dastardly digital doter called benbenbenbenben. He lived in the UK and she in Brussels, their story began when he commented on this photo on her Flickr stream…. He asked her what all this LC-A+ business was about, and how she got such amazing unique effects in all her photos. She guided him into the world of Lomography and he got hooked. They chatted over email, about photography tips, what they were shooting, places they'd been, bands they liked, they realized they had a lot in common. She had tickets to see Explosions in the Sky on the 10th of May but her friend let her down at the last minute. So, on a whim she asked him if he'd like to come. He bought a Eurostar ticket and met her at the gig.
43 days later he proposed. While they walked through the park snapping away on their favorite Lomographic cameras he fashioned a ring out of a daisy chain. It must be fate… Friends and family were invited with an envelope of postcards printed with their favorite lomographs. They married, exactly 8 months after the day they met, on the 10th of January in the Philippines and because it all started with an LC-A+ they gave each of their guests a hand carved wooden LC-A+ as a wedding gift. Liana and Ben have just celebrated their second anniversary, and if you'd like to congratulate them yourself, pop along to the Lomography Gallery Store in Newburgh Street, London, where Liana is the manager.
---
First contact
Shirley: I had a LomoHome long before I bought my LC-A+ and in the beginning there were hardly any Scottish Lomographers registered. One by one more people in Scotland signed up and I would browse through the photos with excitement. I came across a shot of two police officers walking up a hill with their hands behind their backs and left a message in Andrew's guestbook. We rarely got in touch, until I moved back home, to Ayrshire, then we were messaging each other almost every day. We decided to meet and the last message I received before the day arrived was 'Please don't call me 'dusted', my name is Andrew'. It made me laugh!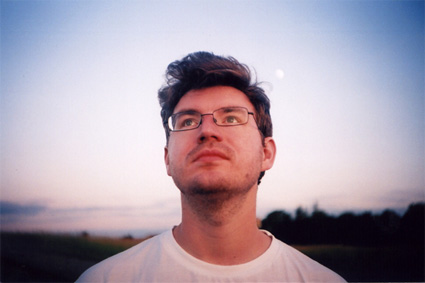 Andrew: One day I logged into my LomoHome to find that someone had left me a comment. It was a girl who was based on the Isle of Arran. It was quite exciting as there weren't many LomoHomes from people in Scotland. We left each other lots of comments and it was great to have someone to talk to about Lomography. I still didn't know a great deal and Shirley knew loads more about it than me. We both graduated from University at the same time and she moved back home. I suggested we meet up as she said she didn't know a lot of people in Glasgow any more.
The (Non) Date
Shirley: I confess. When I first met him I immediately thought he was a geek! He was wearing a t-shirt that said 'I love my computer', he had a holga around his neck and was carrying a bag of records. But as we got chatting I immediately felt guilty of judging a book by its cover. He was interesting, we liked a lot of the same things and I began to think that I must be a geek too, at least at heart!
Andrew: We met outside a Fopp record shop on Byres road. The weather was beautiful and I had brought a photo album to show her some shots – so we went to Kelvingrove Park to have a flick through the photos and to talk. I thought she was a bit quiet and shy, but soon enough we were talking loads. We chatted for a while and walked into town for a hot chocolate. We talked about Lomography, music and University. I always remember the shoes she had on, they were really cool. They were knitted and green.
Shirley: We met again at a Broadcast gig and steadily became good friends. At one point I'd borrowed his LC-A+ when mine was broken and unfortunately I lost it. I was so upset when I told him, but he was calm and understanding. In the end it was returned to me, which was a relief. It made me realize how close we had become.
Andrew: It wasn't long before Shirley moved to Glasgow and we were hanging out lots. A year or so later we started to date each other. It was great that we had already built up a friendship before becoming boyfriend and girlfriend. Our first holiday together was a trip to Vienna, which was very special to us both.
And now… It's almost 4 years since we got together. Lomography is a big part of our lives, and without it, life would be very different for both of us.
---