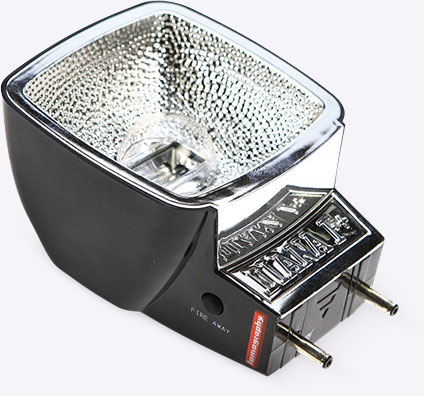 Diana Flash
Add a cast of colorful glow into your Diana Mini pictures! The Diana Flash includes a packet of color gel filters for a burst of colored light, day or night!
Includes a packet of plastic color gels for handy color-splashing
Diana Plug-to-hotshoe adapter to use the Diana Flash on any standard hotshoe camera like the Lomo LC-A+, Fisheye 2, Diana F+ and many others!
Diana "Ready to Shoot" Flash Bag
It's easy to misplace accessories when you're busy snapping up your Diana Mini shots. The Diana Flash Bag attaches easily to your belt for easy access and ultimate style!
Organically finished (vegetable-tanned) leather
Snap-button tie to attach bag to your belt
Made in Egypt using ethical production practices
Diana Mini Bag
Specially crafted to keep your Diana Mini camera safe and sound, it's made from quality organically finished leather and snap buttons. Not only does it offer protection and a boost of style; you'll love its convenience too!
Crafted from vegetable-tanned leather
Front part can be opened (ready-to-shoot)
Remove the front part completely (ready-to-shoot)