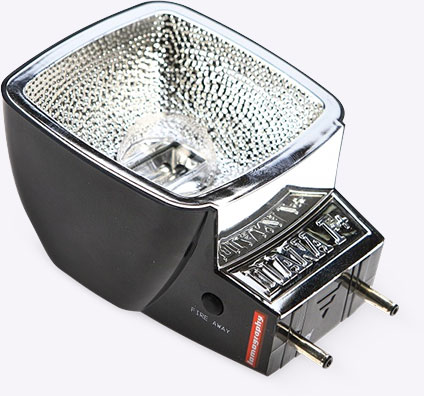 Diana Flash+
This powerful flash comes with a packet of color gel flash filters so that you can tint your frame a whole new hue. It even comes with a hot-shoe adapter so that you can use it on any standard hot-shoe camera. That includes the Lomo LC-A+, Fisheye 2, and Diana F+!
Includes a packet of plastic color gels for handy color-splashing
Diana Plug-to-hotshoe adapter to use the Diana Flash on any standard hotshoe camera like the Lomo LC-A+, Fisheye 2, Diana F+ and many others!
Diana Flash Bag
You never know when the universe is going to throw you the perfect shot. This stylish leather flash bag attaches to your belt so that you can whip out your flash anytime, anywhere.
Organically finished (vegetable-tanned) leather
Snap-button tie to attach bag to your belt
Made in Egypt using ethical production practices
Diana Mini Bag
Whether you're hiking in the mountains or chilling on the beach, this gorgeous leather camera bag will keep your Diana Mini safe. It comes with a snap button so that you can attach it to your belt, and because the front opens, you don't even have to take it out of its case to capture the perfect shot.
Crafted from vegetable-tanned leather
Front part can be opened (ready-to-shoot)
Remove the front part completely (ready-to-shoot)