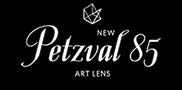 The Re-Revolution Of Portrait Photography
Lomography New Petzval 85 Art Lens
For Canon EF and Nikon F Mount Analogue and Digital Cameras
The Re-Revolution Of Portrait Photography
Lomography New Petzval 85 Art Lens
For Canon EF and Nikon F Mount Analogue and Digital Cameras
The Lomography New Petzval 85 Art Lens is a stunning reinvention of the legendary Petzval Lens, which was first conceived of in Vienna, Austria, in 1840.
It is compatible with all Canon EF and Nikon F mount analogue and digital cameras and offers both photographers and filmmakers the chance to shoot truly unique photographs and videos.
Characteristic photos shot with the New Petzval 85 Lens are recognizable for their sharpness and crispness in the center, strong color saturation, wonderful swirly bokeh effect, artful vignettes and narrow depth of field. Because of the characteristic swirly bokeh effect that it produces, the New Petzval 85 Lens is perfect for portraits where you want your subject to be the center of attention. The New Petzval 85 Lens features premium glass optics and is manufactured in Russia by Zenit, a company with a long and distinguished history in lens design.
Thanks to the support of over 3000 Kickstarter backers, in 2013 we have been able to reinvent the Petzval Lens for the 21st Century. In only 30 days, the New Petzval 85 Lens became one of the most successful Kickstarter design projects ever and it's with huge pride and happiness that we are able to share this groundbreaking resurrection of one of the finest portrait lenses in history with you!
The New Petzval 85 Lens Package
Lomography New Petzval 85 Art Lens
Petzval Book
Cleaning Cloth
Leather Pouch
Brass Lens Cap