We've built a prince's ransom of improvements into the basic Lubitel design. As Lubitel devotees for countless years, we had a few "pet peeves" that we wanted to change. Here's the bigger and the better
35mm Format
As detailed in the Film Formats section, you can easily convert your Lubitel+ into a 35mm machine with the included "Lubikin" set – allowing you to snap vertical panoramic images with exposed sprocket holes. Oh yes!
Endless Panorama Format
Just like with the Diana F+, you can shoot an endless stream of images with no space between frames – thereby crafting a uniquely analog panoramic image which can stress the entire length of your film!
Improved Viewfinder
The Lubitel+'s viewfinder glass is perfectly flat ground glass and covers 100% of the image. The original viewfinder used curved glass, was a bit tough to see in any angle other than head-on, and only covered 80% of the image.
Closer Focus
The Lubitel+ lens focuses to 0.8m, while the classic Lubitel lens only focused to 1.4m. This means stronger and more intense portraits and close-up shots!
Zone Focus (just like the LC-A+!)
The Lubitel+ features a easy zone focus mode which snaps to the familiar LC-A+ distance settings of 0.8m, 1.5m, 3m, and infinity (allowing you to truly "be fast").
On-Camera Exposure Guides
Setting the manual exposure of the Lubitel just got a lot easier with the help of two handy exposure guides (one aperture-priority, one shutter-priority) printed right onto your camera.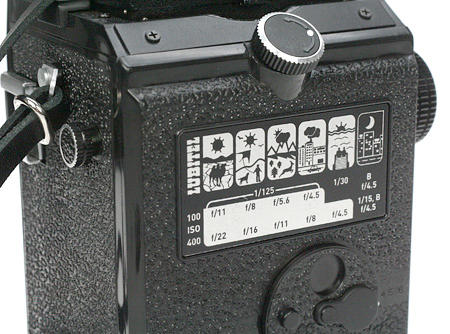 Standard Hotshoe
Sync any standard hotshoe flash – including the Colorsplash flash or Diana Flash – perfectly with your camera.
Rewind your 120 rolls
With the Lubitel+, you can rewind your film before the end of the roll. This allows you to trade film rolls with a mate rewind to a past frame and shoot on it again. This is one of the only medium format cameras in the world that can do this!
Specifications
Type:TLR

Manufacturer: Lomography

Full-frame ground glass viewfinder

Film: 120 and 35mm

Frame Size: 6x6, 6x4.5, 35mm, and endless panorama shooting formats

Lens: Triplet-22 f/4.5 75mm lens

Shutter: Leaf, manually cocked

Shutter speeds from 1/15 sec to 1/250 sec and Bulb for long exposures

Apertures from f4.5 to f22

Focus from 0.8m-infinity

Hot shoe for external flash - syncs at any shutter speed

Film transport: manual

Frame counter: One on the side for 35mm Film, two windows at the back for controlling frame numbers of all three frame sizes

Double exposure safety: false

On-camera exposure guide